Coin Collecting at the Safir House
Capped Bust Half Dollars
Sun Sep 24 06:27:41 2023
---
The Capped Bust Half Dollar is one of the most followed coin types in Coin Collecting. The appeal is that they are Early 19th Century coins, minted at a time there was no Silver Dollars, on relatively crude presses by todays standards, resulting in a large number of die marriages and variieties.

The Bust followers have identified the majority of the actual dies used for Bust Halfs, both Obverse and reverse. This endlessly facinatates the Bust Nuts and they created a club called The Bust Half Nut Club Club which requires ownership of at least 100 Overton tpyes or die pairs.

The Bible for Bust Half Collectors is the Overton Reference and its updates written by D.L. Parsley.

There os a;sp the John Reich Collectors Society which produces an excellent jounal largely focued on Busts.

1831 XF45
The 1831 O-105, (R-3)

The obverse of this die marriage was struck using Obverse Die 3. This was the first of two uses of the die. The die was later used to strike the common O-104 die marriage.

The reverse of this die marriage was struck using Reverse Die E. This was the second of two uses of the die. The die was used just prior to strike the scarce 1831 O-106, R3 die marriage.

The quick identifiers of this die marriage are:

(1) There are two distinct horizontal die defect line below the bust. The top line touches the drapery.

(2) The first 1 is sharply higher than the 8

(3) Almost all of the lines in the stripes extend up past the lower three crossbars in the shield. The most noticeable are the lines of the first two stripes
Thanks Jim_M and lkeigwin on cointalk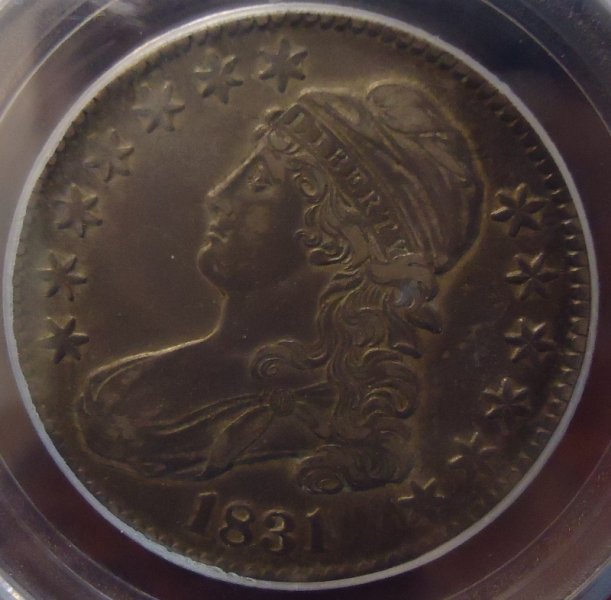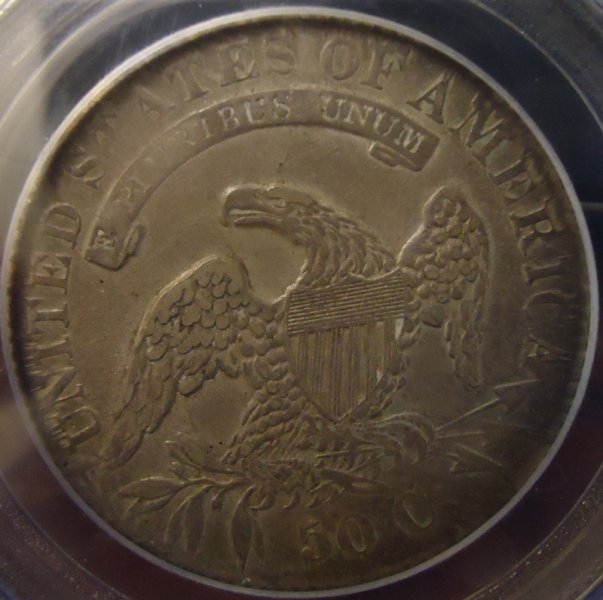 This 1836 is described as follows:
836 O-120 VF/XF Bust Half Dollar. A wonderful example of the O-120 variety, with dark surfaces 
and lots of detail remaining. Overton lists the tell-tale signs of the variety as:

Obverse: Stars are mostly sharp and close to the milling; Star 8 is recut at two upper points; 
Date 7.5 mm, with the 83 closer than the 18 or 36; Remains of a bar and dot show weakly to the 
right of the 6.

Reverse: 50 C is a close 1mm, and rather high, with a well formed 5 a large C; I us centered 
under the left side of T; A in STATES is higher that adjacent T's at both top and bottom; 
The area between olive leaves and berries is noticeably filled.

The O-120 variety has a R-4- rarity rating, meaning less than 200 are believed to exist.
This is an AU50 O.103 1812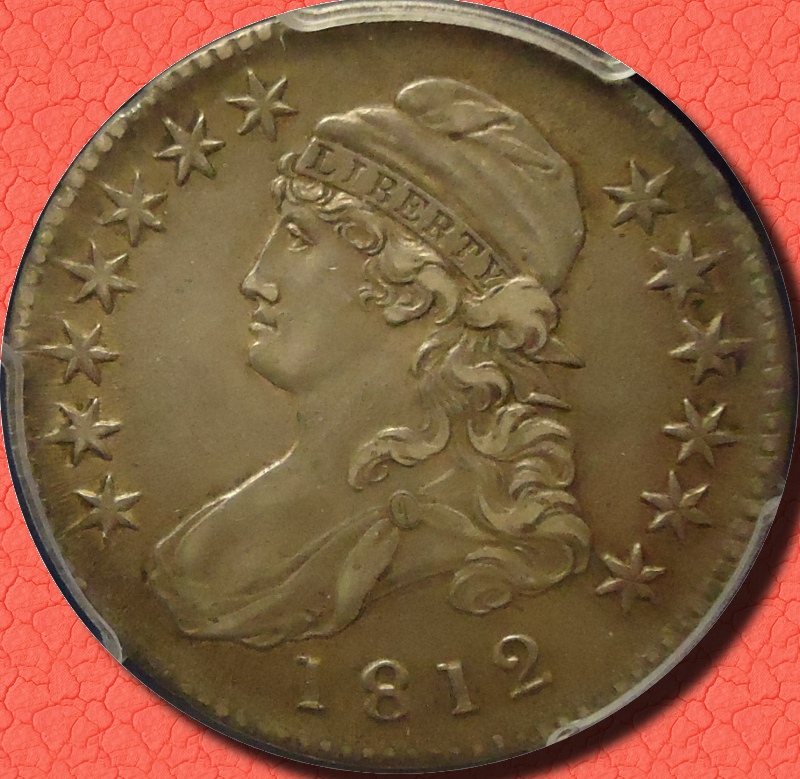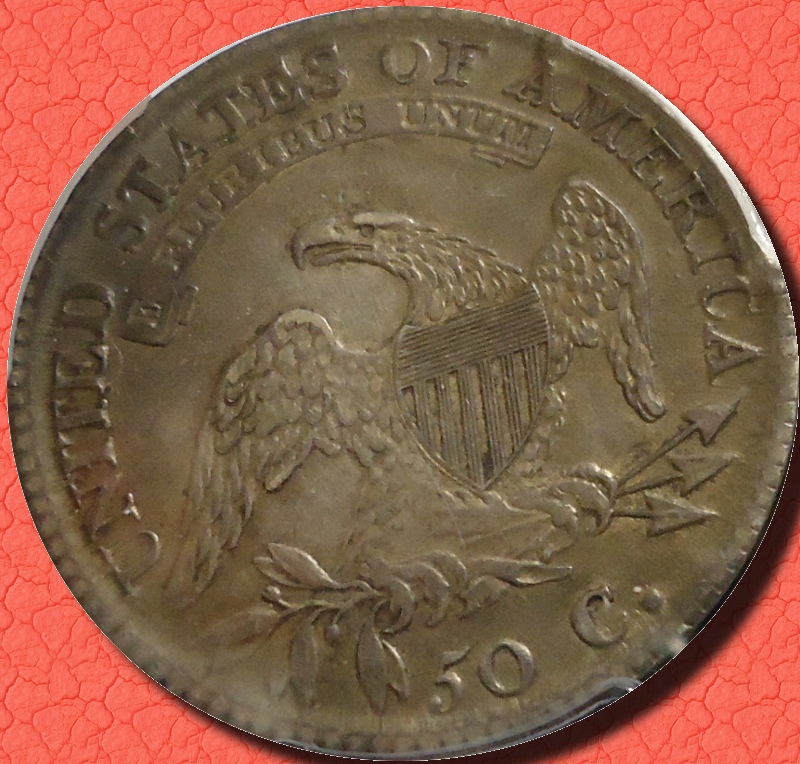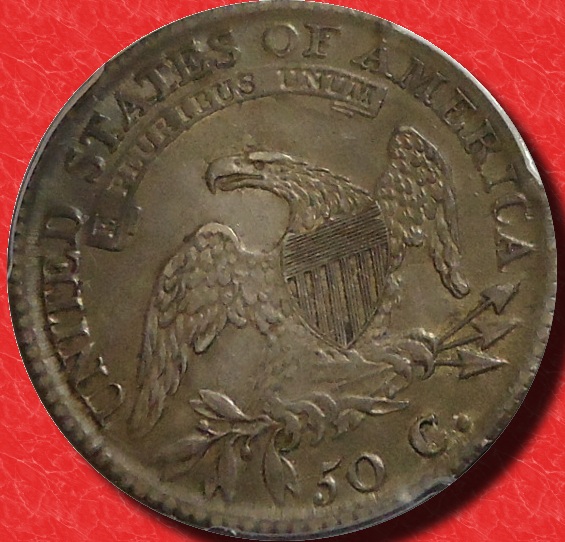 This is a 1836 Lettered Edged XF45 in a PCGS slab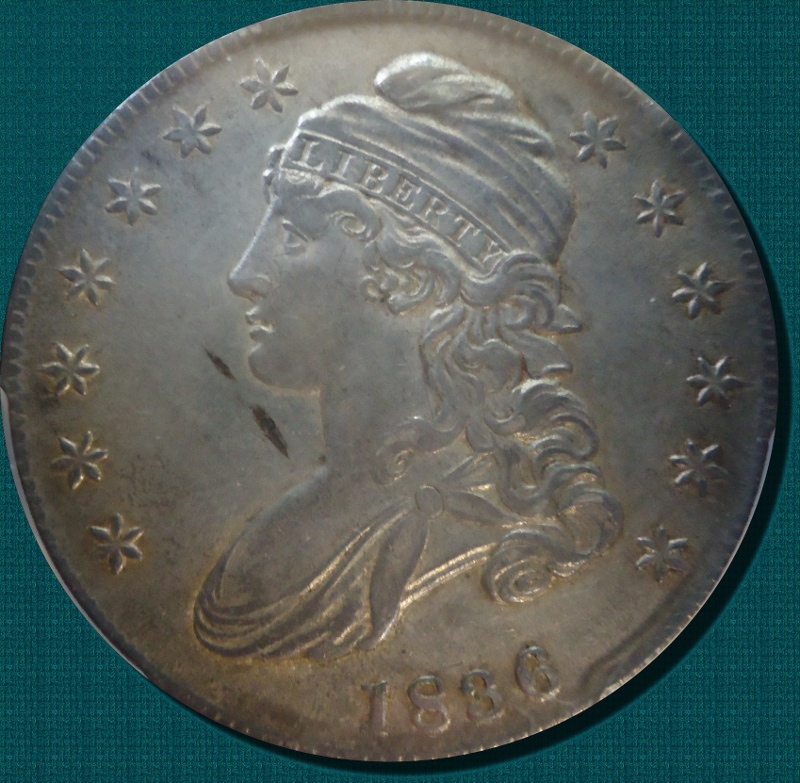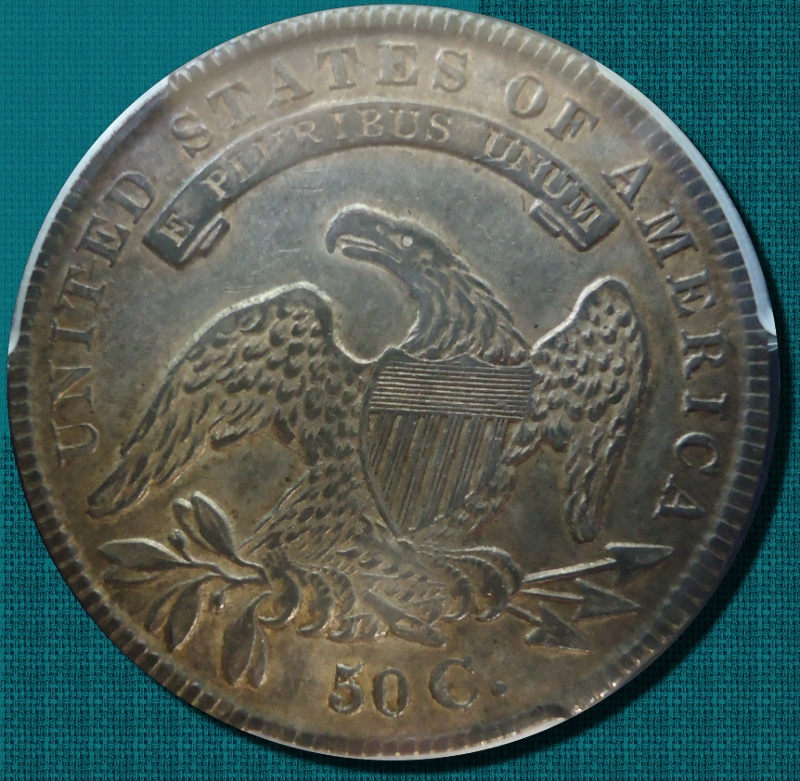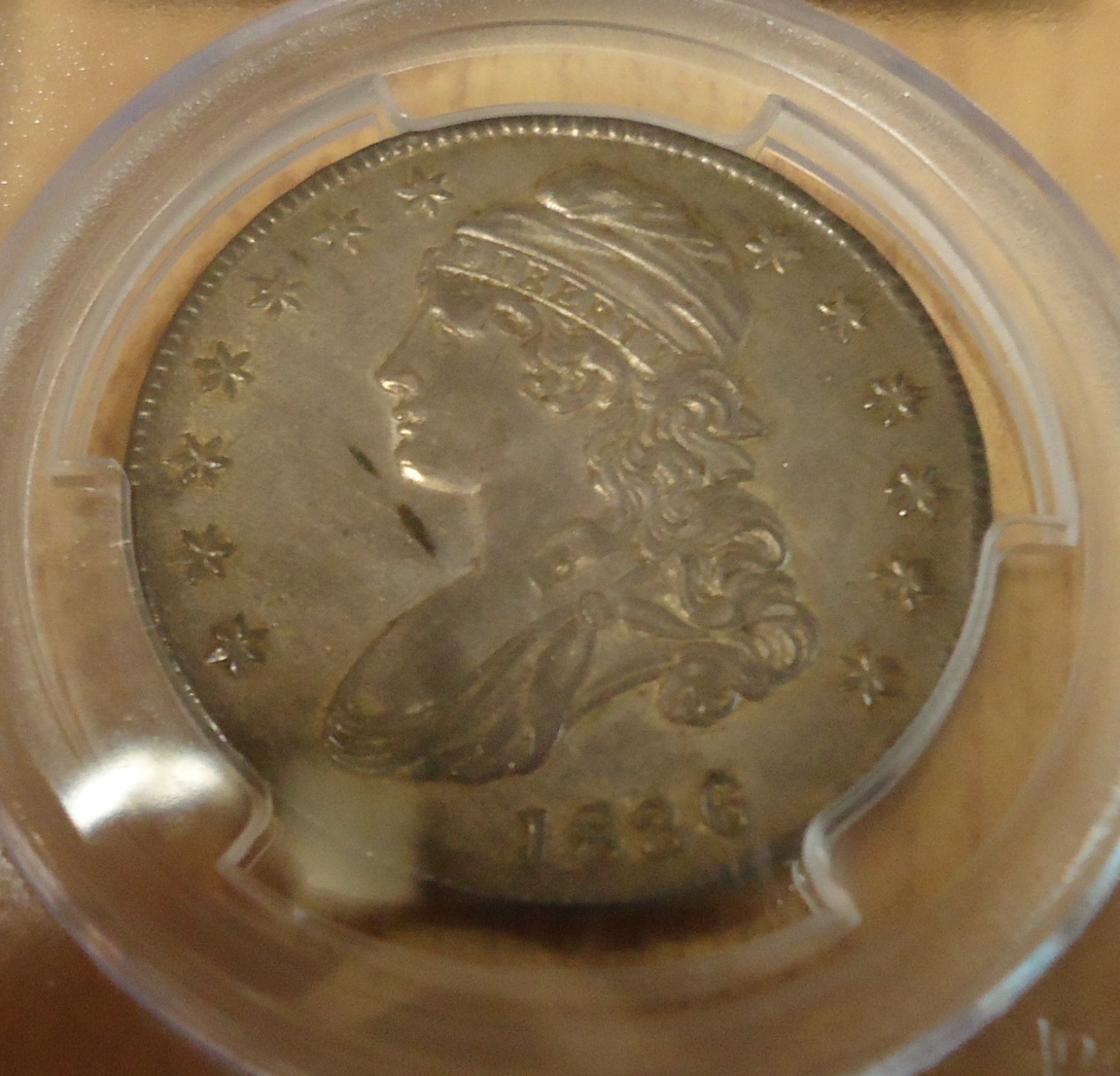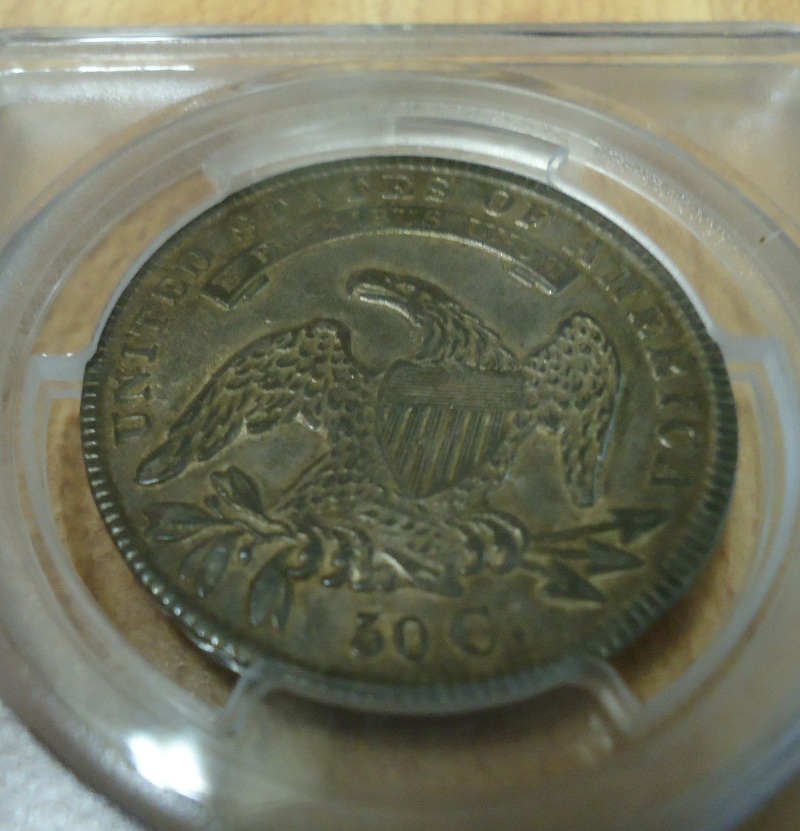 This is an 1812 XF45 in a PCGS slab which has double lettering on the edge. It has an o 106 obverse.
The slab is making it very hard to take a clean photograph so I'll need to try again at some point.
The Coin also has a die crack on the Reverse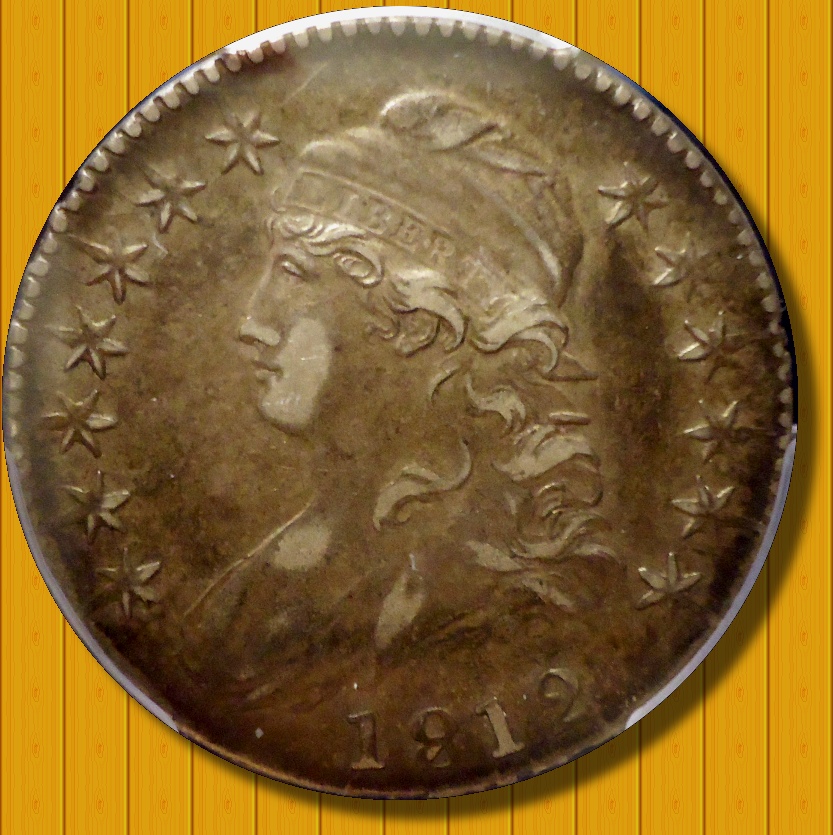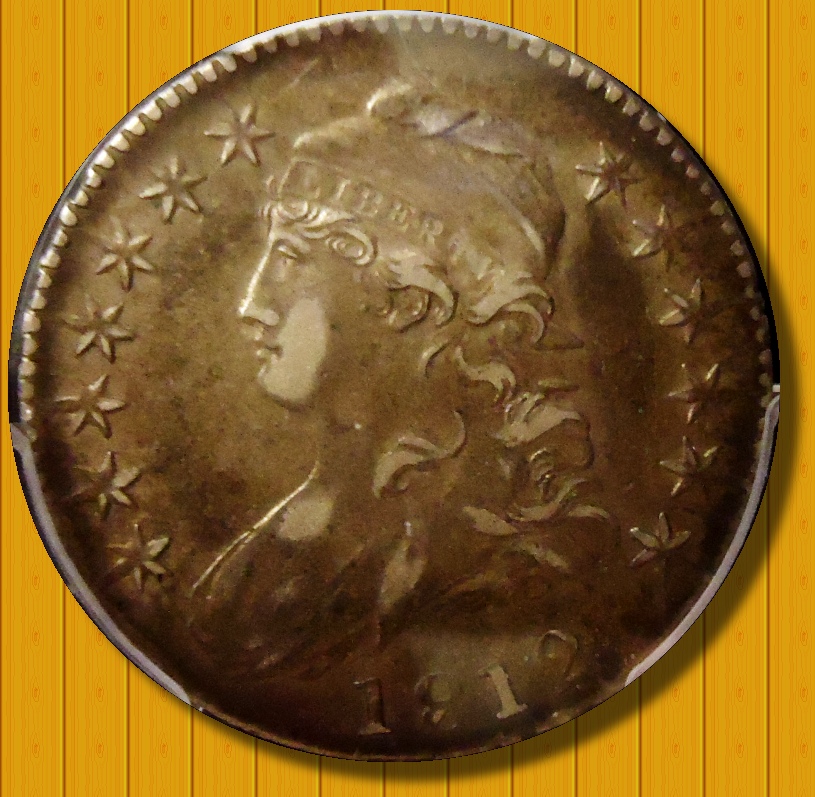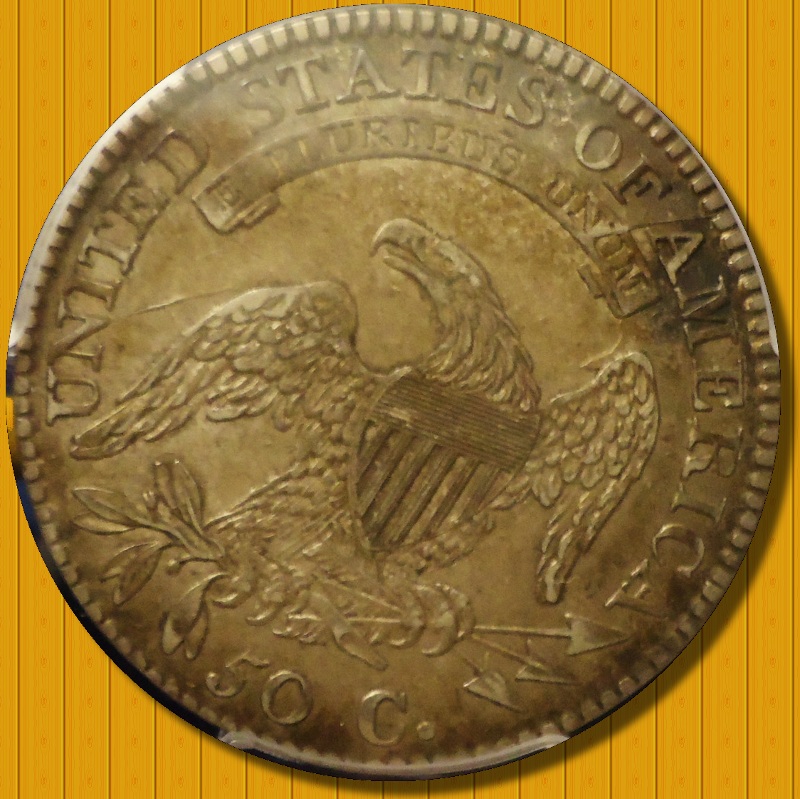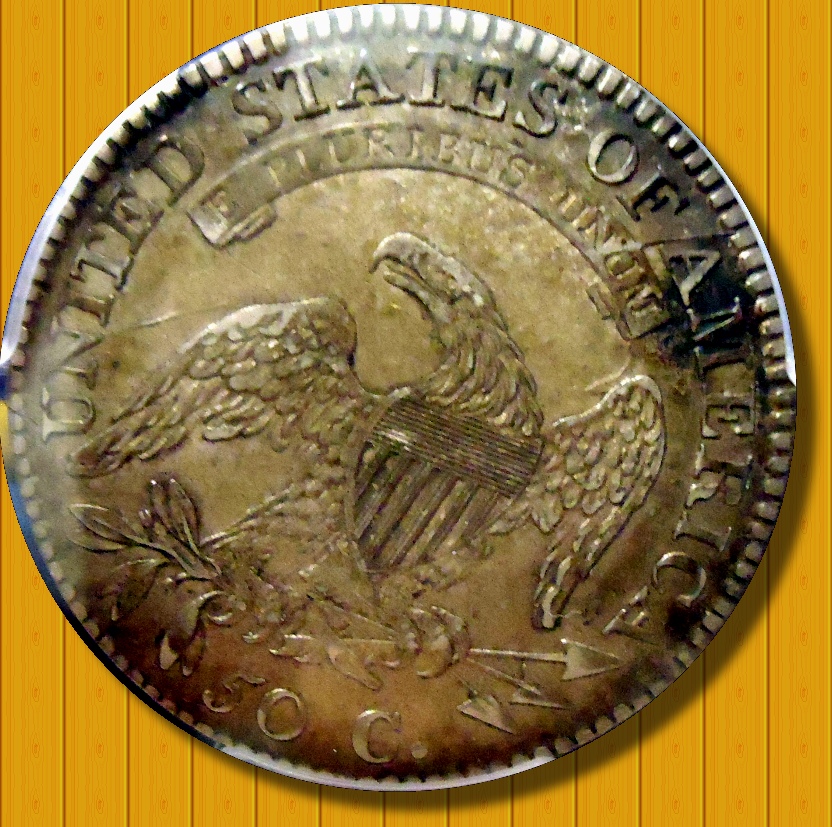 ---
The Safir Family Internet Coins Library: Foriegn Coins.
Several mints from around the world make exciting coin designs in circulating alloys, silver and gold. Among my favorites are the Perth Mint in Austrailia which produces a variety of coins for nations mostly through out the Pacific Rim. The Neatherlands has also produced some interesting designs, and several private US based mints have produced foreign currency on contract, include the Franklin Mint which has produced many Israeli Coins. Our interest in foreign coins has been nominal but rapidly growing as it seems that US designs are so stuck in the mud. Also, foreign mints are creating bold new designs with color and bimetal designs that are both eye catching and fun.